Christopher Rice

Interview on After Elton here Podcast 11 on HereTV is here
Offical Website is here
Destiny of Souls
August 2001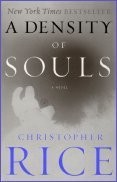 I loved this book from start to finish it shows 4 close friends and as they go on to high school how they change. How one becomes an outcast for 2 of them to ridulcoa while another can only watch not able to do anything. The main character Stephen is gay and does not hide from this fact. It shows how he has to deal with his life like that and the way he falls in love. How he does not know how to go about being gay and the way he sees his so called friends act with him.
Then a tradgy happens which affects them all and years down the line how someone finds out about it all. Someone that Stephen doesn't want to know. This book is about relationships friends family lovers and brothers. They all gather round the bright sun which is hidden the sun is Stephen.
Please read this book you will not be able to put it down.
Snow Garden
January 2004
Night Before Day
March 2005
© Content and Graphics by Tsaress
Bio
Pictures
Thoughts on New Orleans
Vampire
Mayfair Witches
A.N Roquelaure
Anne Rampling
Book Covers
Other
First Blood
Maruis Tree
Lestat Tree
Graphic Novels
Family Tree
The Witches
The Talamasca
Graphic Novels
Interview with the Vampire
Queen of the Damned
Lestat Musical
Trip to New Orleans
Katrina Remembered
Pictures
Christopher Rice
Katherine Ramsland
The Mummy
About the Site
Link the Site
Links